Investment Management Services
We offer four levels of Investment Management Services: Managed Discretionary, Advisory Portfolio, Advisory Dealing and Execution Only.
Our primary focus is on delivering investment solutions that meet our clients' needs by providing unbiased multi-asset solutions that combine equities, fixed income and other alternative asset classes.
Our Managed Discretionary Service takes care of the day-to-day management of your portfolio. We make strategic and tactical decisions based on your objectives and risk profile without continual consent, allowing the potential for shorter term trading strategies, improved timing of trades, as well as the potential for limiting portfolio drawdown/losses. Our research process seeks to uncover global opportunities through a combination of top-down, bottom-up research to manage portfolio volatility and selective risk. This is an extremely active service with all assets managed to suit today's volatile capital markets whilst aiming to deliver returns above market averages.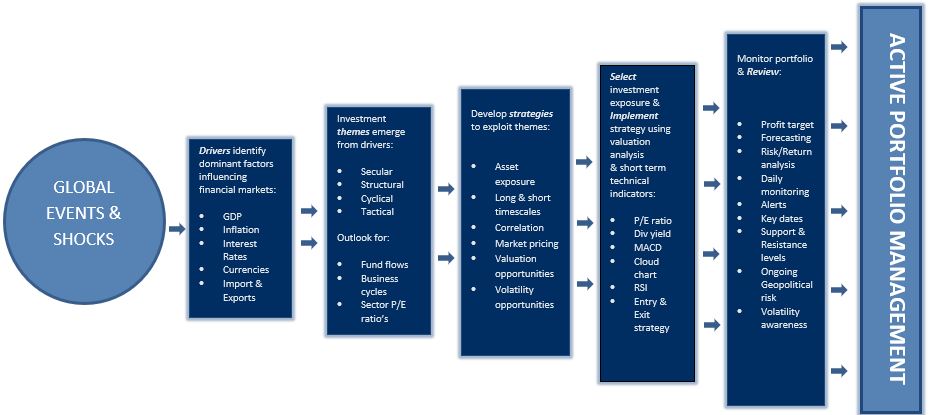 The above diagram highlights the depth of our process and illustrates the breakdown from the larger Macro environment to more detailed financial and technical Micro level. Click on the image to enlarge the diagram.
We provide access to a full range of tax wrappers, including: 
ISAs, with Raymond James as the ISA manager
Pension wrappers, offered by a variety of pension administrators, including SIPPs and SSASs
A range of Offshore Portfolio Bond wrappers
Alternative Investment Market (AIM) portfolios to compliment Tax Planning
In terms of assets, we offer access to all classes, including: 
Equities, Bonds, Investment Trusts, ETFs
Retail Funds and Institutional Share Classes of Funds
Wider Range Investments including Hedge Funds, Property Funds, Commodity Funds, Private Equity Funds and Structured Products
Key Benefits of Our Services
Bespoke Managed Discretionary Investment and full Financial Planning service
Access to global markets via worldwide market exchanges through the award winning Raymond James platform
Portfolios implemented and structured in line with ongoing Drivers, Themes and Strategies
Assets not limited to 'traditional' Asset Allocation parameters
Portfolios invested across a full range of diversified assets including Domestic and Global traded individual equities, FX, Corporate Bonds, Investment Trusts, ETFs, Managed Funds & Wider Range Investment Assets
Investments managed & monitored on an ongoing daily basis with Portfolio changes implemented without delay of permissions
Ongoing Risk and Attribution Analysis with Technical Alerts on individual portfolio holdings
Management of family assets- Designated accounts, Bare Trusts, Junior ISAs
Inheritance Tax Planning- AIM Portfolio, Trusts
Regular face to face review meetings with summary asset report per annum, as well as 4 valuation reports sent annually
Annual CGT report available through CGIX service
24/7 valuations available online through Investor Access
Getting Started
Becoming a client is straightforward, whether you approach us directly, or indirectly, through your Financial Adviser. Whether you are looking to start a portfolio or augment an existing one, we can help set up a course to help you achieve your investment aims.
We will work with you to establish your personal risk profile and build a solution that meets your individual needs and requirements. All our portfolios are specifically tailored to you and through working closely with you we will adapt, review and change positions as and when appropriate. Our Discretionary mandate allows you to pass on the everyday stress and strain of running a modern investment portfolio to our dedicated team.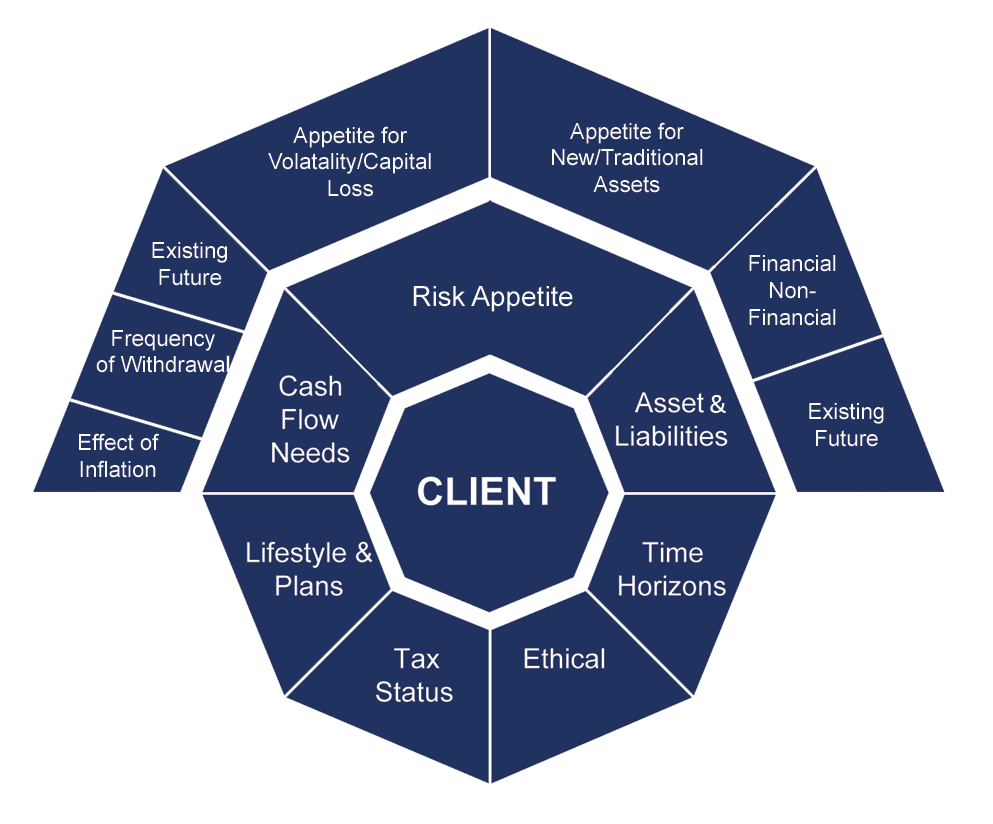 We have a responsibility to ensure that our recommendations and investment decisions are suitable for you, so managing risk and understanding your tolerances is crucial where decisions regarding uncertainties are present. To support you through this process we use an independent international risk profiling system that has been tried and tested over a number of years with thousands of clients.
If your circumstances change, then you can be reassured that we will be there to review your personal situation and financial positions.